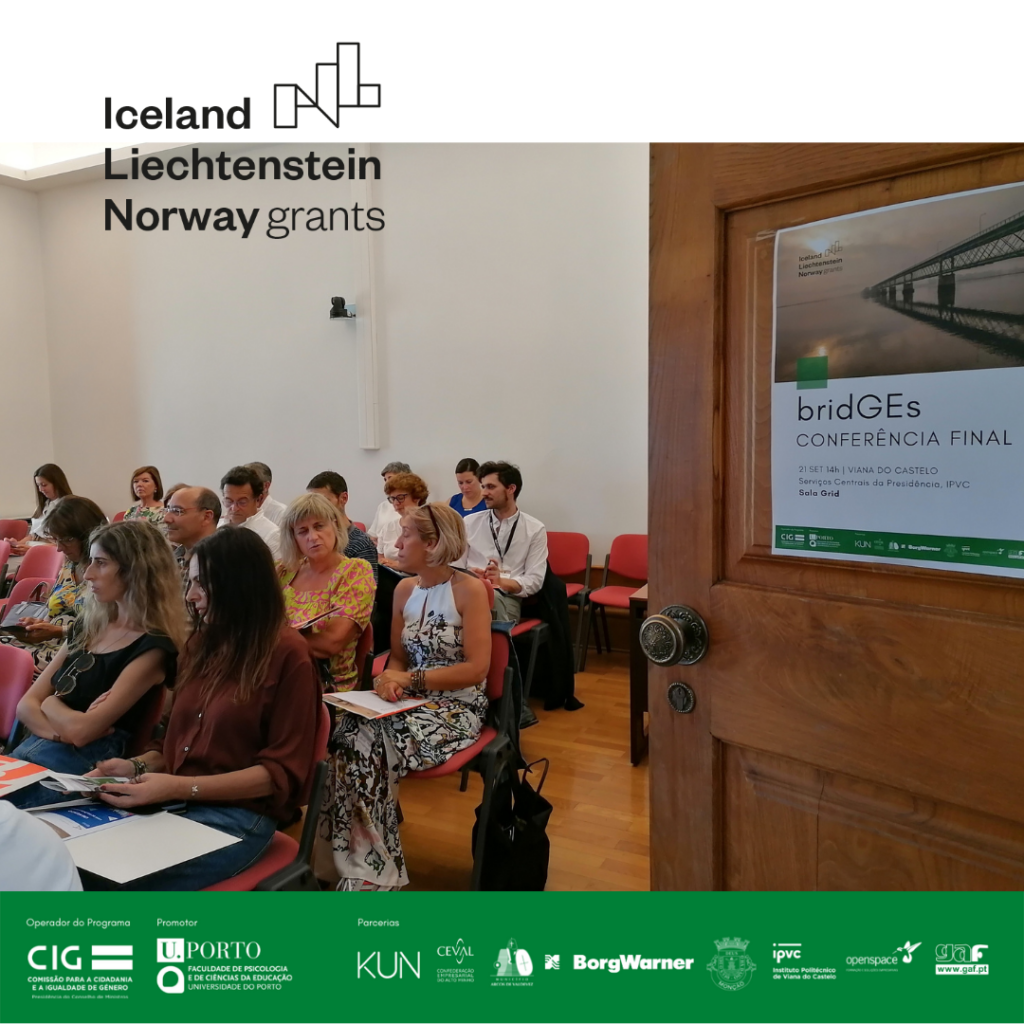 Last September 21st, bridGEs team – Alto Minho Companies for Gender Equality, held the Closing Conference of the project, in Viana do Castelo, having been warmly welcomed by the partner and host IPVC – Instituto Politécnico de Viana do Castelo.
The opening session included the interventions of Ana Paula Vale, Vice-President of IPVC, Conceição Nogueira, representing the Faculty of Psychology and Sciences of Education of the University of Porto and Coordinator of the bridGEs project, and Tove Bruvik Westberg, Norwegian Ambassador in Portugal.
The first panel, Bridges for Equality in Alto Minho organisations, presented the results and products of the project, both in terms of the production of scientific knowledge and the intervention carried out with the partner organisations. Ricardo Lemos from Confederação Empresaial do Alto Minho (CEVAL), Isabel Afonso from Municipality of Arcos dos Valdevez and Leandra Rodrigues from Gabinete de Atendimento à Família (GAF) enriched the panel, reporting on how they got involved in the project's activities and how bridGEs contributed to their organisations.
This was followed by the intervention of Albertina Jordão, Gender Equality Specialist at the International Labour Organisation – ILO Lisbon, who addressed the issues of harassment and violence at work, presenting Convention No. 190 (2019), which aims to promote dignity and respect at work and is currently in the process of ratification and implementation.
Karin Hovde, representing international partner KUN – Centre for Equality and Diversity (Norway), with a paper entitled Embracing gender equality and diversity in work places, shared examples of good practices from Norwegian organisations, highlighting, in each one of them, the motivations behind the adoption and implementation of equality measures.
Closing the conference, Joana Marteleira, from the Commission for Citizenship and Gender Equality (CIG), framed the bridGEs project in Work-Life Balance Programme of the EEA Grants Financial Mechanism and congratulated the team for the results achieved.
BridGEs – Alto Minho Companies for Gender Equality, promoted by Faculty of Psychology and Sciences of Education of University of Porto and operated by the Commission for Citizenship and for Gender Equality, is a project of the Work-Life Balance Programme of the European Economic Area Financial Mechanism – EEA Grants. Working Together for a green, competitive and inclusive Europe!